Last weekend I completed the Richmond Marathon in a time of 04:52:11.
A colleague once joked that I couldn't run 10km. First thing the next morning, I got up and ran 10km around the Exeter waterfront. I didn't do it to prove them wrong, I did it because I believed they were right and wanted to prove myself wrong. Many years later, I set myself a new challenge, to run a marathon. I crossed the finish line slower than I'd have liked, but I made it. This post is my way of celebrating the achievement. It also serves as a collection of notes should I, or anyone else, consider something like this again.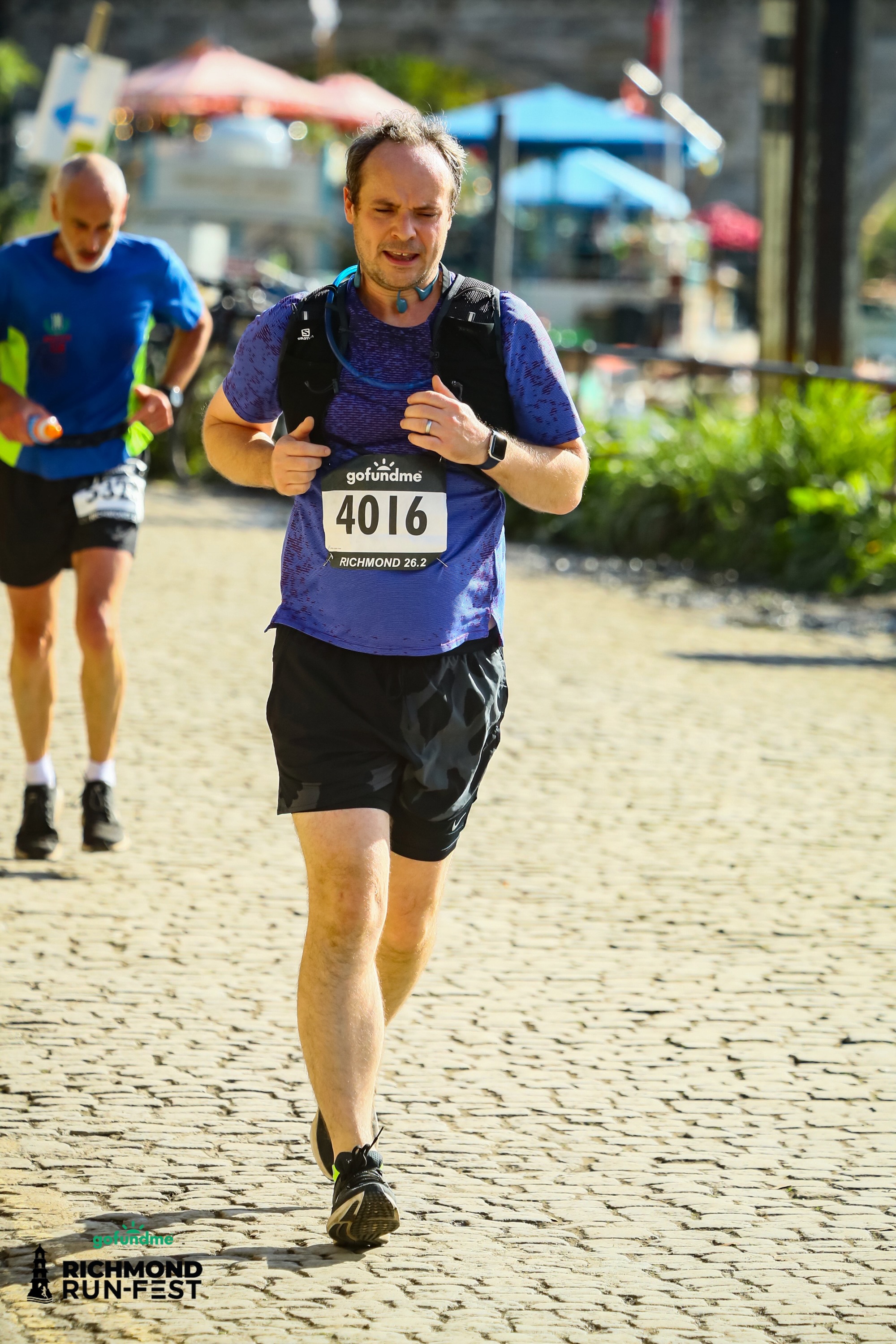 Some Stats
| | |
| --- | --- |
| Race Time: | 04:52:11 |
| Race Distance: | 42.195km |
| Temperature: | 6-18 ºC |
| Total Energy: | 3,952 kcal |
| Steps (on the day) | 54,662 |
| Training Runs: | 80 |
| Training Distance: | 815km |
| Training Duration: | 5 months |
Race Day
Pre-Race
This was my first race and I had no idea what to expect. Race day was a morning of panic, a beautiful walk along the river, a long wait in the cold and then a run.
Packing my bag, I realised I'd not considered whether to carry water for the race. I knew there'd be water stops but were they going to be enough? Were they going to be where I needed them? During training I've found that I consumed a lot (2.5 litres) of water on longer runs. I'd drink more if I could carry it. I found advice on the internet that confirmed what I already knew: For your first marathon, don't chance it. Take water. I took 1.5 litres in a backpack and ran with that. It turned out to be the right decision. I drank at every water point and still finished the 1.5 litres I was carrying.
I have never figured out what to eat before running. I run better in the mornings and on an empty stomach. But could I survive a marathon on an empty stomach? This seemed like insanity, but I went with what I knew, no breakfast. When I arrived at the start, I couldn't help noticing that people around me seemed to be eating. Bananas and energy bars seemed to be popular choices.
There was a good 45 minutes between entering Kew Gardens and the start of the race. By this point I'd packed my clothes onto a truck which was on its way to the finish line. Standing around in 6ºC in shorts and a thin t-shirt didn't feel like a sensible way to warm up. There did't seem to be concensus on how to stay warm. A few sensible people huddled together in the bathrooms for warmth, but space was limited. Some donned disposable bin bags or foil survival blankets. A few brave souls opted to start the race in warmer clothes.
Standing in the starting pen, the talk was all about finishing times. We'd had to estimate finishing times when we entered the race. I remember having no idea and took 30 minutes off the cut-off time and went with that. My goal was to finish within the cut-off. All the talk of pacing and timing made me realise, I had no race plan. I'd assumed that if I followed a training plan and showed up to race, I'd have a good chance of finishing. What pace was I going to run at? Should I start slow and keep something back? Should I start fast, knowing that there was a chance I'd have to pull out? I had no idea. I found myself between two pacers in the starting pen, 4hrs 30mins and 4hrs 45mins. They seemed like reasonable race times, so I set off between them.
When I run, I listen to podcasts. I find music as it tends to mess with my natural rhythm as I run. Podcasts give me something to focus on and think about on longer runs. On race day I queued up 6hrs of podcasts but started the race without headphones on. They stayed off for the duration and I didn't miss them. Motivation and support was not hard to come by on race day.
The Race
As we set off I worried about one thing, my knee (see injury below). I focussed all my attention on slight differences between left and right knees. There was nothing there, but I wanted to be certain. By the time I'd convinced myself things were OK we were on our way out of Kew Gardens. I'd missed the chance to enjoy the support of those who'd come out to see us off. We left Kew and passed the "4 mile" marker. I'd kept up with the 4:30 pacer so far and I felt good. I made the decision to keep this pace. This was also when I realised my mental milestones were all in kilometers. Miles meant nothing to me. I found the small group that formed around the pacers to be immensely helpful. Trying to run my own pace felt like a mental hurdle that I didn't need. I wear a watch that gives me more stats than I know what to do with. It doesn't provide the motivational support I get from running with a group of people. I kept up with the 4:30 pacers until somewhere around km 29/30. Fitness wise, this pace felt good.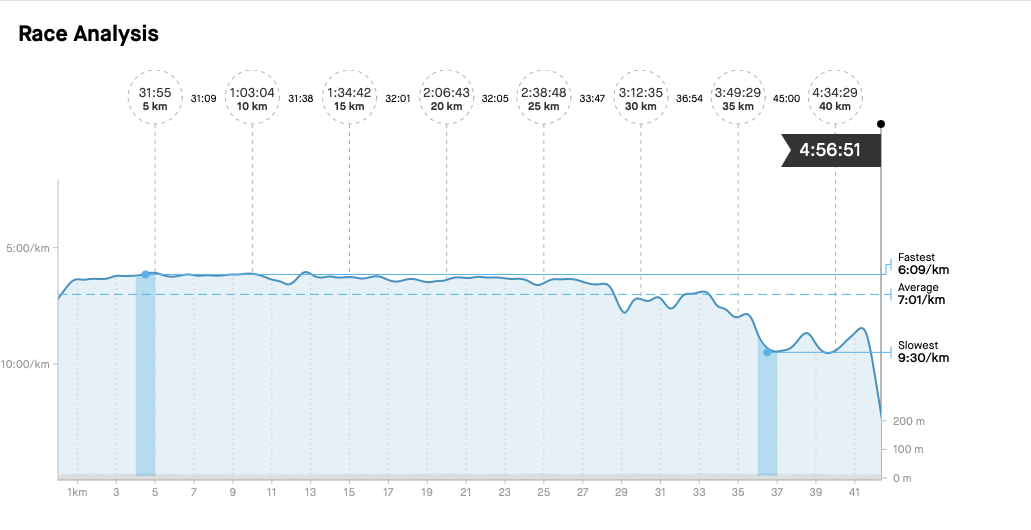 At km 29 my right knee gave out. I'd known this was coming but was surprised at how long it had lasted. I'd had to abandon my last training run when my knee gave out so to have made it 29 km into the race felt incredible. At this point, the rest of the race became a balancing act. Walking, running, or stopping. Striking this balance was particularly difficult. I was no longer able to switch off and follower the pacer. I found myself devising a strategy to get to the finish line. The transition between walking and running was harder than I'd imagined. As I stopped running, my knees would lock up. Trying to start again it felt like my legs were jelly. I'd run until my knee felt like it was about to give up. As soon as I felt the warning signs, I'd switch back to walking until my knee eased up. This cycle repeated for the rest of the race. You can see the point my knee gave out, and how the rest of the race played out in the pace analysis above.
As the 4:45 pacer overtook me, I felt deflated, but by then I knew I was going to finish. I'm glad the finish line photo shows a little smile, I was elated.
Training
Training was a journey of discovery. I loosly followed this marathon training plan.
Generally I enjoyed training. It was a chance to get out of the house, run along the river. Without a daily commute, it was my chance to catch up on listening to podcasts.
At times the schedule clashed with family or social commitments. A long run on a Sunday morning would wipe me out for the rest of the day. There were evenings when I didn't eat with the family because I didn't want to eat before a run.
Training was also a journey of discovery when it came to running gear. I spotted this trap coming and set myself the target of a half marathon before I'd look at gear.
The first thing I looked at was shoes. If I could go back in time, I'd spend more time looking at and trying shoes. I've had a pair of Nike Flyknit Lunar 2's for several years now. These have been the most comfortable shoes I've ever worn. Thin, lightweight and with limited cushioning, they let me feel the ground. But long overdue replacement, they started to fall apart early into training. Much to my disapointment, they are no longer made and there appears to be no obvious replacement. Please Nike, bring these shoes back. I ended up with a pair of Pegasus 39s and these gave early signs of being comfortable. But on longer runs I started to feel every stone in a way that shouldn't be possible in a cushioned shoe.
I've avoided carrying water or fuel when running because I hated carrying anything. The scorching hot summer changed that. I had to start carrying water with me. I settled on a vest that allowed me to carry 1.5 litres on my back and an extra litre (2x 500ml) on the front. On several occasions, I'd finish all the water I could carry. Finding a way to carry this much water comfortably was a breakthrough.
When I started training, I had no idea that energy gels existed. When someone asked me what I ate on long runs, I thought they were joking. Novice mistake. Consuming fuel at regular intervals worked wonders for exhaustion levels. That said, I've tried all different sorts of gels and haven't found anything that doesn't make me want to vomit. The Gu Salted Caramel and Chocolate Outrage gels were about the best that I found.
I settled on the following gear for running. On shorter runs (below 10k) I'd leave the water, fuel and vest behind.
Nike Pegasus 39s (store)
Nike Dri-FIT Stride Run Division Men's 2-In-1 Running Shorts (store)
Nike Dri-FIT ADV Run Division TechKnit Men's Short-Sleeve Running Top (not available)
Nike Multiplier Running No-Show Socks (store)
Salomon Active Skin 4 Hydration Vest (store)
Salomon Soft Reservoir 1.5L (store)
Shokz Open Run Pro (store)
Apple Watch Series 6 (not available)
Polar H10 Heart Rate Monitor (store)
Gu energy gels (store)
I did quite well at sticking to the training schedule. There was that one time I turned two pages at once and tried a 3.5 hr run four weeks early and that destroyed me. But save for the odd juggling of rest days, training was consistent.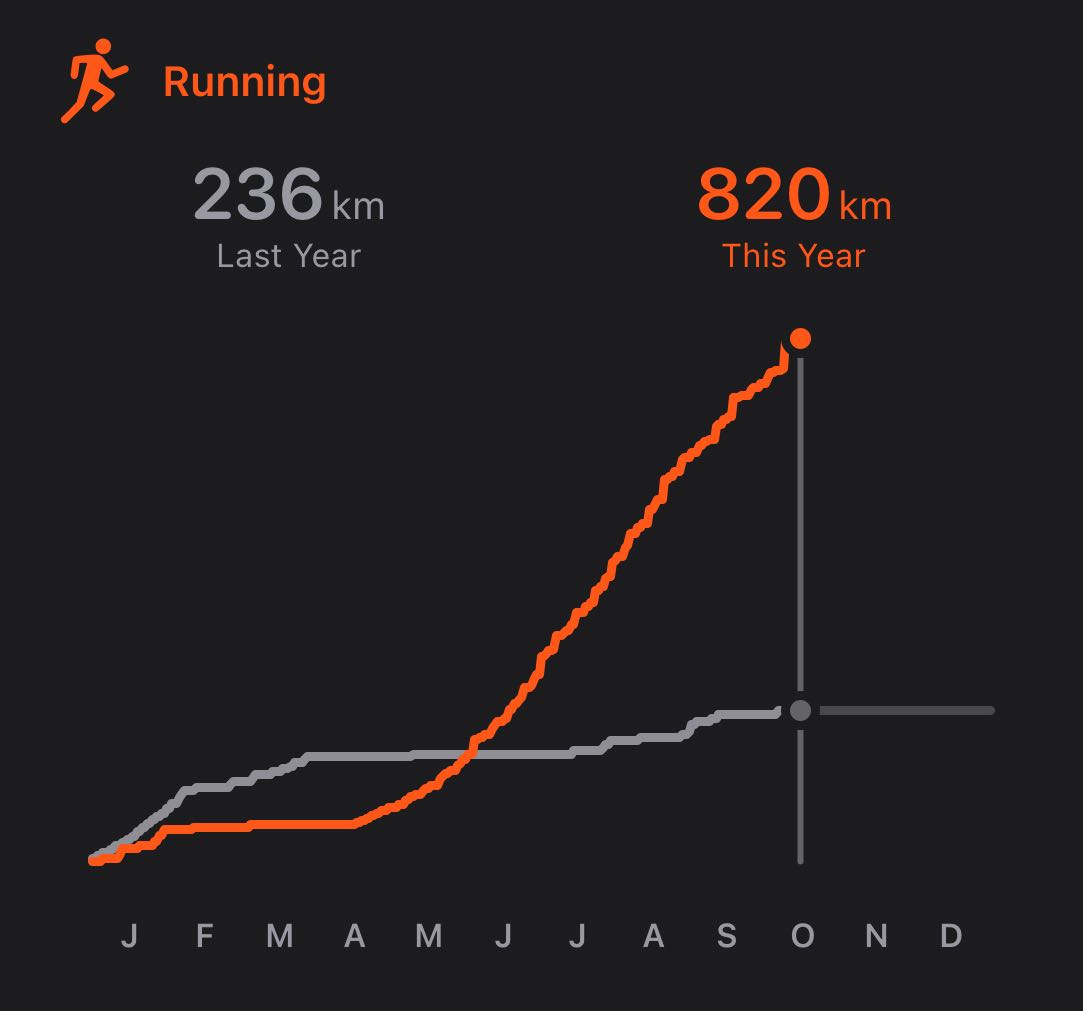 Injury
I managed to get through training (over 780 km) without injury. The death of the Queen forced a race postponement. I was in the final week of rest before the race and had no idea how long the postponement would last. I thought a few medium duration runs would be a reasonable way to stay prepared. That first week was disaster. On my first run I tripped, fell and grazed my left hand on gravel trying to catch myself. On the second run, my right knee gave up and I had to limp home in agony. I knew what this meant. Walking was painful.
I'm notoriously bad at seeking help during illness or injury. Despite being aware that I could be making things worse, I didn't do more than a few searches for knee injury. My way of coping was to make the decision that I wouldn't ignore the pain. I took the decision to take things easy, even if it meant that I wasn't ready for race day.
As race day approached, I attempted one final long run. 20 minutes in, my knee gave way again. It wasn't looking good and I considered pulling out. I'm not sure why, but I convinced myself that it would be better to start and see how I got on. I ran through back-up plans for how to get home from various points on the course. I even considered leaving my bike at a tactical location along the route. I settled on starting and seeing how things went. I'm glad I did. My knee didn't last the distance, but I did. Unlike training runs, I didn't try and push through the pain. Post race recovery was swift but this is something that I'll have to keep an eye on. Anything but a complete recovery is a strong sign that I should get it checked out.
What Next?
I'm going to continue running. It's a good excuse to spend time by the river and is flexible enough that I can fit runs around life commitments.
Another Marathon? Not this year. I need to give my knee a chance to recover. I'm not going to say never again, but it'll be a while.
I've signed up to the Kew Gardens Half Marathon on the 2nd April 2023. For unrelated reasons it's looking unlikely that I'll make it.
If I were to run another marathon, I'd do two things differently. First, I'd spend more time on finding the right shoes. I'd love to go back to my original Flyknit Lunar 2's but will have to find a reasonable alternative. Second, I'd spend a little time planning the race and use training as an opportunity to test that plan. What pace should I run? What and when should I eat? How do I avoid the knee troubles that plagued me this time around.
Thanks
This was a challenge that I set myself, but I couldn't have done it without the support of those around me. I'd like to thank my wife for the space, support and encouragement throughout. A 3 hour run on a Sunday didn't mean she held the fort at home for 3 hours. Three hour runs would wipe me out for the day, mess with meal times and prevent us from doing other things as a family.
My son for greeting me with a smile after every run and the shared delight when he realised that, I too, now held a medal.
I didn't tell many people that I was doing this. Those that I did tell were supportive and helpful beyond what they may realise. Thank you.
Finally, I'd also like to thank the Richmond Run Fest organisers, race-day volunteers, and pacers. All had to abandon plans at the last minute and then re-schedule the event within 4 weeks. It was a tough day for me, but an absolute delight to take part. Thank you.