Assumed Audience: anyone with an interest in translation or Mandarin Chinese
---

I came across an interesting translation on the Line 10 subway in Beijing today.
内环 (nèi huán) clockwise 🔁
外环 (wài huán) anti-clockwise 🔄
I have seen this map many times before but never noticed the translation for the direction of travel. Line 10 is the newer of Beijing's two loop lines. On previous trips, I would look at the arrows or the English when deciding which way to go round the loop. But on this trip, I've been trying to pay more attention to characters that I should recognise. I recognised the caracters for the directions, but couldn't grasp the meaning. 内环 would more commonly translate as "inner loop". 外环 would be the "outer loop".
I was unable to find a translation for 内 or 外 that meant clockwise or anti-clockwise. I was stumped and so I asked.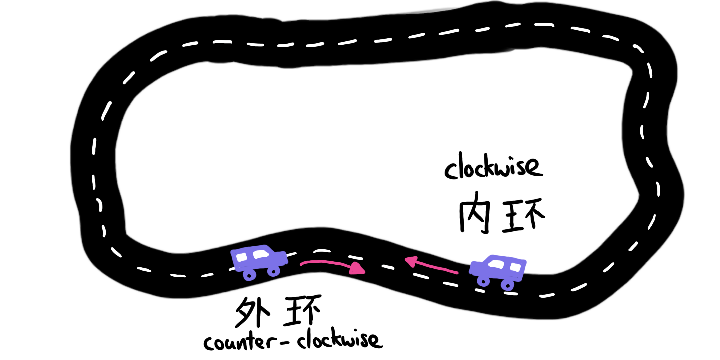 We thought the Chinese terms used here, might stem from the way cars would drive around a ring road. This is of course assuming that you drive on the right. You drive on the outer loop to go anti-clockwise and drive on the inner loop to go clockwise.
This is a wonderful example of how translation is more than finding two words that mean the same thing. Sometimes we have to find a different way of saying something.
While talking, I realised I didn't know the Chinese for clockwise and anti-clockwise. For future reference:
顺时针 (shùnshízhēn) clockwise 🔁
逆时针 (nìshízhēn) anti-clockwise 🔄
Apologies for the terrible diagram and characters. Been a while since I sketched anything.
Sources:
Translation / Dictionary - MDBG