Assumed Audience: Anyone who has noticed a mistake in an online map or route.
---
I always tend to over-estimate how long it will take me to walk somewhere. Even on routes I walk regularly, I find myself arriving far too early. In an effort to improve my estimation I looked up walking directions for a local route and noticed something odd. Multiple maps suggested a walking route that took me through a private estate and a locked gate. The route would be ideal, if only the directions included the pin code for the gate lock. The directions were wrong.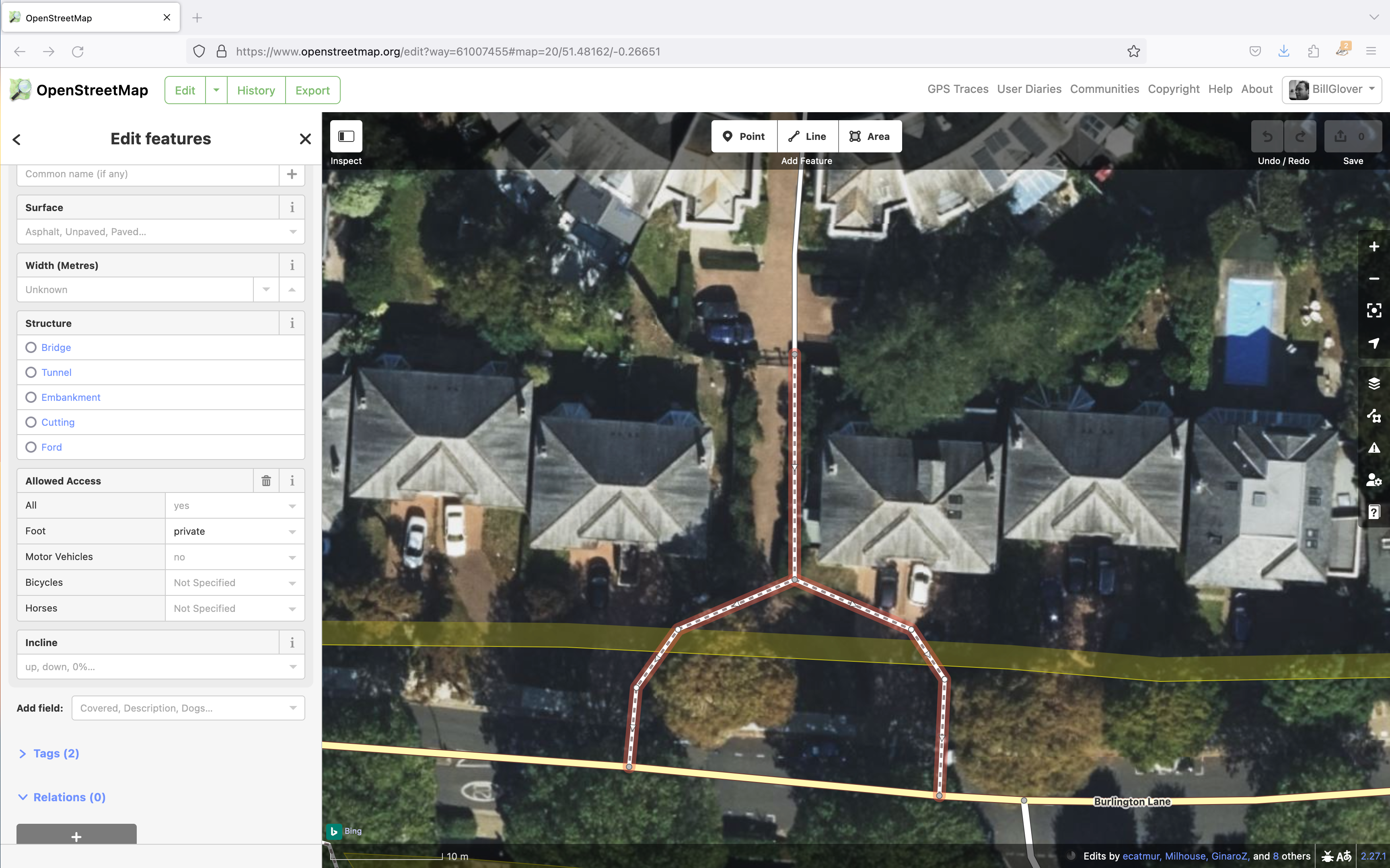 Curious as to why I was being routed through a locked gate, I turned to OpenStreetMap. OpenStreetMap includes a wonderful tool that allows you to query the properties of features on the map. Looking at the path in question, I could see that the pathway was tagged with an access value, access=permissive
Access by pedestrians is allowed on a permissive basis rather than enshrined by law or public order. Permission may be withdrawn at any time.
This definition seems to imply that the path would be fair game when looking for the most efficient route. The only issue was the locked gate indicating that permission had been withdrawn (if it was ever granted). The path in question is clearly signposted with a sign that says "Private" and that no access was permitted. OpenStreetMap has a corresponding access tag.
indicating that the object is not to be used by the general public. Access is only with permission on an individual basis.
I wasn't easily able to validate ownership of the land to confirm that someone had the right to designate it as private. But thankfully, the OpenStreetMap definition of "access=private" covers this.
"Note that access=private records that access is restricted, not whether or not the object is privately owned."
I knew what property I needed to change, and what I needed to change it to. So how hard would it be to fix the map?
When you first click the "Edit" button in OpenStreetMap you are walked through a quick interactive tutorial that has you editing a couple of map features. As soon as you are comfortable, you can start editing the live map. Editing was as easy as selecting the feature(s) I wanted to edit, finding the property I wanted to change in the left hand properties pane, and then picking the new value. On saving the changes, I provided a brief description of the change and my reasoning behind the update and hit save. My changes were live.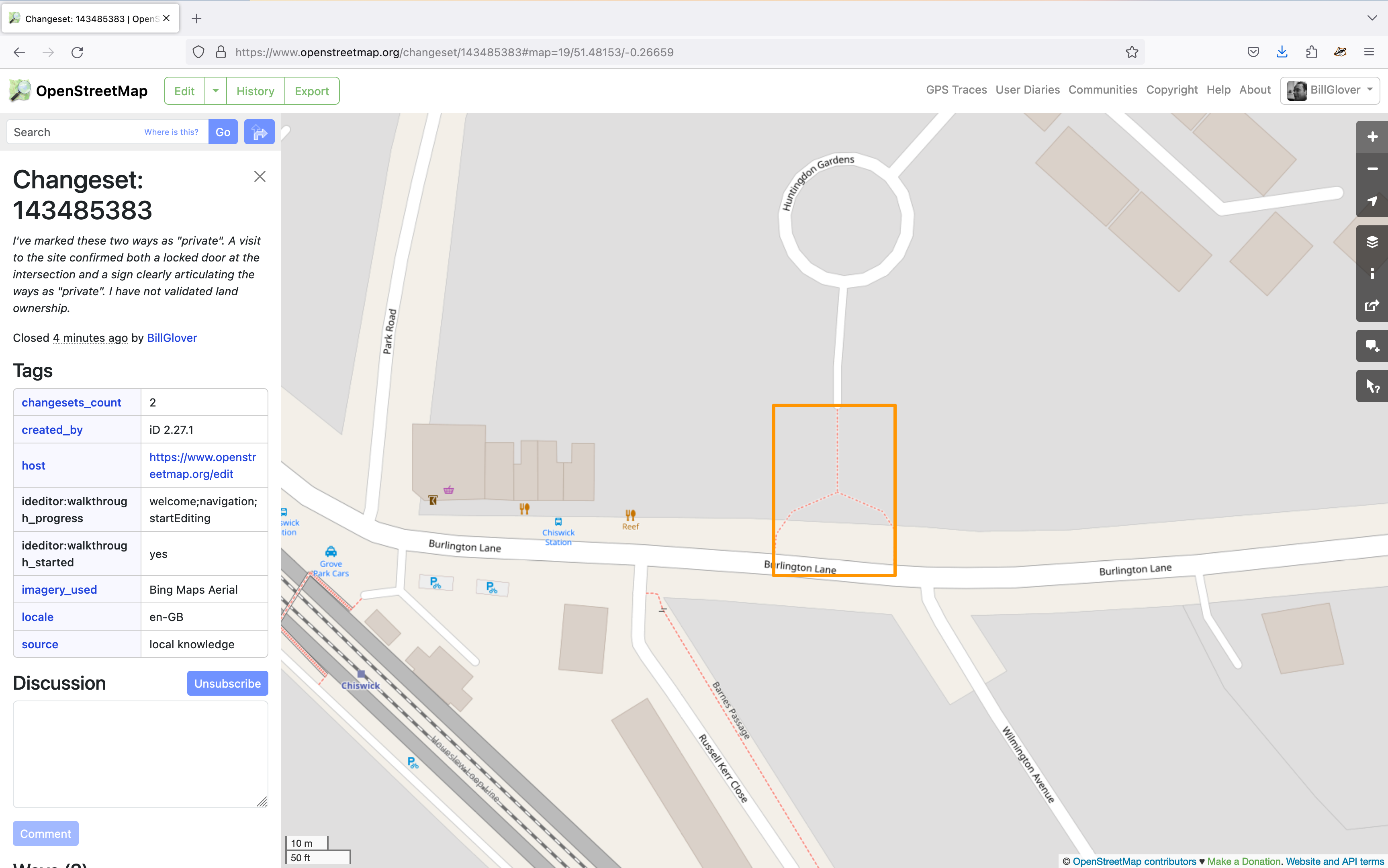 You can view my changes on OSM (changeset #143485383).
I'm blown away at how well thought out this whole process is and can guarantee I'll be making further contributions in future. Updating the map information for our local area might be a fun exercise to do with my eldest. If you ever notice a mistake, or missing information, I'd highly recommend contributing fixes. It isn't as painful as you might imagine.
One final note on routing: Although my map changes were live instantly, it looks as though the common routing services will take a couple of days to update their data from the source. I've set myself a reminder to come back and validate that this change has had the desired effect.
Update:
2023-11-05 - Confirmed all routing algorithms on OSM reflect the change
2023-11-06 - Confirmed Apple Maps no longer routes through the private path